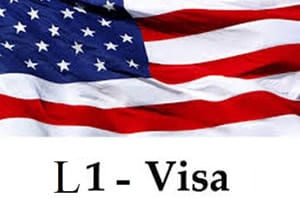 The L-1A visa can be used by companies abroad to transfer managers or executives to the U.S. to work at an established U.S. company or branch office or to form a new office. The U.S. company or branch office must have a qualifying relationship with the company abroad and both companies must be doing business.
Clients who are interested in the L-1 visa often ask what the application process involves. The main steps for applying for an L-1 visa are described below:
Prepare supporting documents. The supporting documents must show that the foreign & U.S. companies and the L-1 applicant meet the L-1 requirements. L-1 applications are very document intensive (often hundreds of pages) so it is generally recommended that the company hire an immigration attorney who can advise them & assist in preparing the application.
File Form I-129 & supporting documents with U.S. Citizenship & Immigration Services. With limited exceptions for Canadians and L-1 blanket petitions, most L-1 petitions must be submitted to U.S. Citizenship & Immigration Services ("USCIS") for approval. USCIS will review the documents and issue a decision (approval, denial, Request for Evidence or Notice of Intent to Deny).
If the company wants a fast response, file a premium processing request. Under normal processing times, it can USCIS several months to issue a response. If the company wants a faster response, they can file Form I-907 along with the I-129 to request premium processing. Premium processing ensures that USCIS will process the application in 15 calendar days. The premium processing fee for L-1 visas (at the time of writing) is $2,500. You should keep in mind that the 15-day clock stops if you receive a Request for Evidence ("RFE"), which typically requires additional time to answer. Once you respond to the RFE, you must send the answers back to USCIS; they will then take up to another 15 calendar days to give you a response. It is possible to receive another RFE, but at this point your application is usually approved or denied.
After approval, apply for the U.S. visa at a Consulate. Once USCIS approves the application, the applicant can submit a DS160 application online and schedule an interview at a U.S. Consulate. During the interview, the consular officer will confirm the petition approval in the Petition Information Management System (PIMS), confirm that the facts in the petition are accurate and ensure that the applicant is eligible for the visa. Questions will usually revolve around the job that the applicant held abroad and the job they will hold in the U.S. If there are have any red flags in the applicant's immigration history such as unlawful presence, past visa denials or criminal violations, the officer may ask about those issues to ensure that the applicant is eligible for a visa.
It is important that you consult with an immigration attorney in order to maximize your chances of getting your application approved. If you have any questions about L-1 visas, E-2 visas or any other immigration related question, please click below to schedule a consultation.
This website and blog constitutes attorney advertising. Do not consider anything in this website or blog legal advice and nothing in this website constitutes an attorney-client relationship being formed. Set up a one-hour consultation with us before acting on anything you read here. Past results are no guarantee of future results and prior results do not imply or predict future results. Each case is different and must be judged on its own merits.