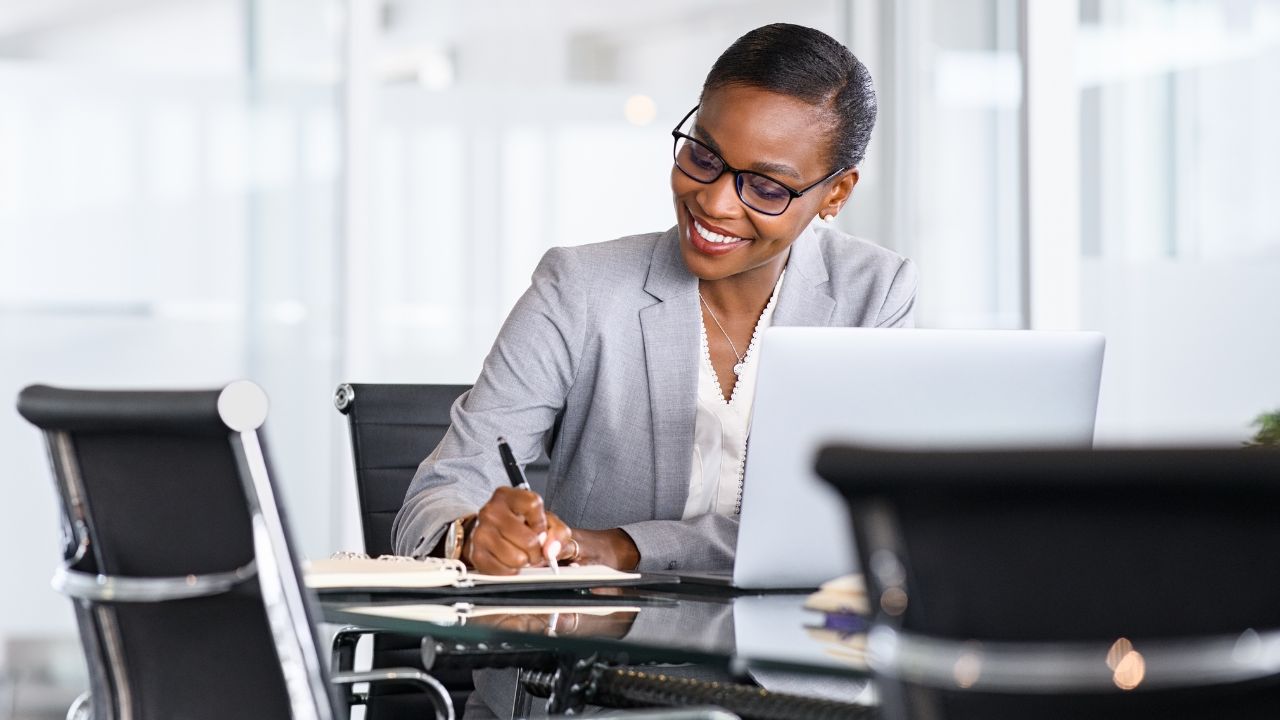 A lot of talk has been going on about the backwards movement in NIW "priority dates" in the past six months. What is a "priority date," and what does it mean for applicants?
At the time of writing (May 2023), no applicant for an EB2 NIW petition can file their adjustment of status application (I-485) concurrently with their NIW petition (I-140). Only applicants who filed their I-140 before February 15, 2022 can move forward with the I-485 or immigrant visa.
This has not always been the case!  Before November 2022, applicants from most countries (other than China and India) were able to file their I-485 together with their NIW petition. Although we expect the situation will change at least by next year once a new quota of immigrant visas become available in October with the start of the new fiscal year, there is no indication of exactly when this will happen so the situation is worth monitoring.
The "priority date" is the date an applicant files their I-140 petition. Let's say you filed your EB2 NIW petition on January 30, 2023 with premium processing, and your petition was approved on March 15, 2023. January 30, 2023 is your priority date. You can find your priority date on your I-797 Receipt Notice or Approval Notice.
In simple terms, applicants are given a priority date which serves as a "place in line" for an immigrant visa (green card), determined by how early you filed your petition.
What does it mean my Priority Date has to be "Current"?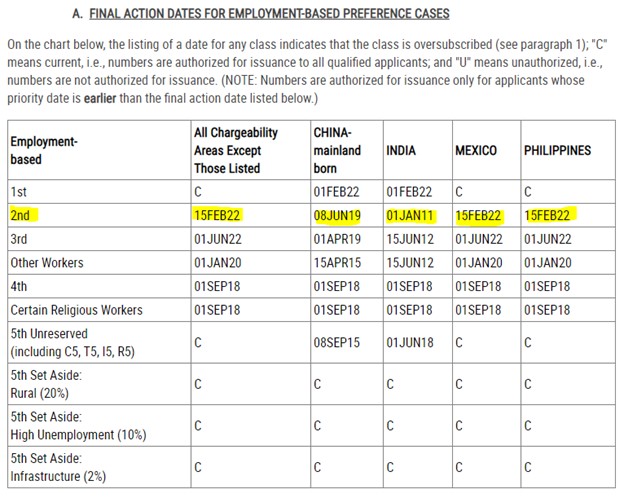 Before you can file your application for an immigrant visa or Adjustment of Status (I-485), you should refer to the visa bulletin, which is listed every month here, and check if either the dates are "current" for your country in the EB2 category, or if not, that your priority date is earlier than the listed date.  Note that "country" here is determined by your country of birth.
The picture above is the May 2023 Visa Bulletin. The highlighted parts in yellow are the priority dates applicable for the EB2 category. Let's say you were born in Canada and you had filed your NIW petition on January 30, 2023, and were approved on March 15, 2023. You would look to the second row, and navigate to the column "All Chargeability Areas," and find the priority date, which is displayed "February 15, 2022."  This means your priority date needs to be earlier than February 15, 2022 to be able to submit your I-485 or application for an immigrant visa.  In the example we used above, if you filed your NIW I-140 petition on January 30, 2023, unfortunately your priority date is later than the threshold date according to that chart so you need to wait before you can submit your I-485 or immigrant visa application.
By contrast, check out the row right above the 2nd preference category, where it says "1st." This refers to the EB1A, "extraordinary ability" petition category. Here, if you navigate to the "All Chargeability Areas" column, you see a letter "C." This stands for "Current," which means all applicants regardless of their priority date can submit their I-485 or immigrant visa. In fact, a petitioner can concurrently submit their I-140 and I-485 together only if the priority date is "Current" for their country in that category for that specific month.
Priority date retrogression for EB-2 is not a new issue for applicants from China and India; because the priority dates has never been "current" for these countries such that the waiting time has always spanned multiple years.  For all other countries, for most of the time the priority dates have been "current" for the EB2 category.
However, EB2 priority dates have been backlogged for all countries once before in September 2018, and has become backlogged once again starting from November 2022 and every month after that. Therefore, it is very important to monitor any movements in priority dates every month if you are preparing to apply for an EB2 NIW green card.
This is significant because during the period the EB2 category is backlogged, no new applicants can concurrently file their I-485 with their I-140 petition, and only applicants who had already filed their I-140 before the threshold priority date in the bulletin can move forward with their green card applications.
The ability to file an I-485 may have heightened significance for applicants who are already in the United States, they want to continue staying in the United States, but their underlying non-immigrant status is coming to an end, such as an F-1 or H1B.
If they are able to file an I-485 before the expiry of their non-immigrant status they can extend their period of stay within the United States, but if they cannot timely file their I-485 because the priority dates are not current, they would need to find other solutions. This could take the form of changing their status to another category, such as the O1 or E2, or applying under the EB1A category where the priority dates are almost always current.
Related posts:
This website and blog constitutes attorney advertising. Do not consider anything in this website or blog legal advice and nothing in this website constitutes an attorney-client relationship being formed. Set up a one-hour consultation with us before acting on anything you read here. Past results are no guarantee of future results and prior results do not imply or predict future results. Each case is different and must be judged on its own merits.