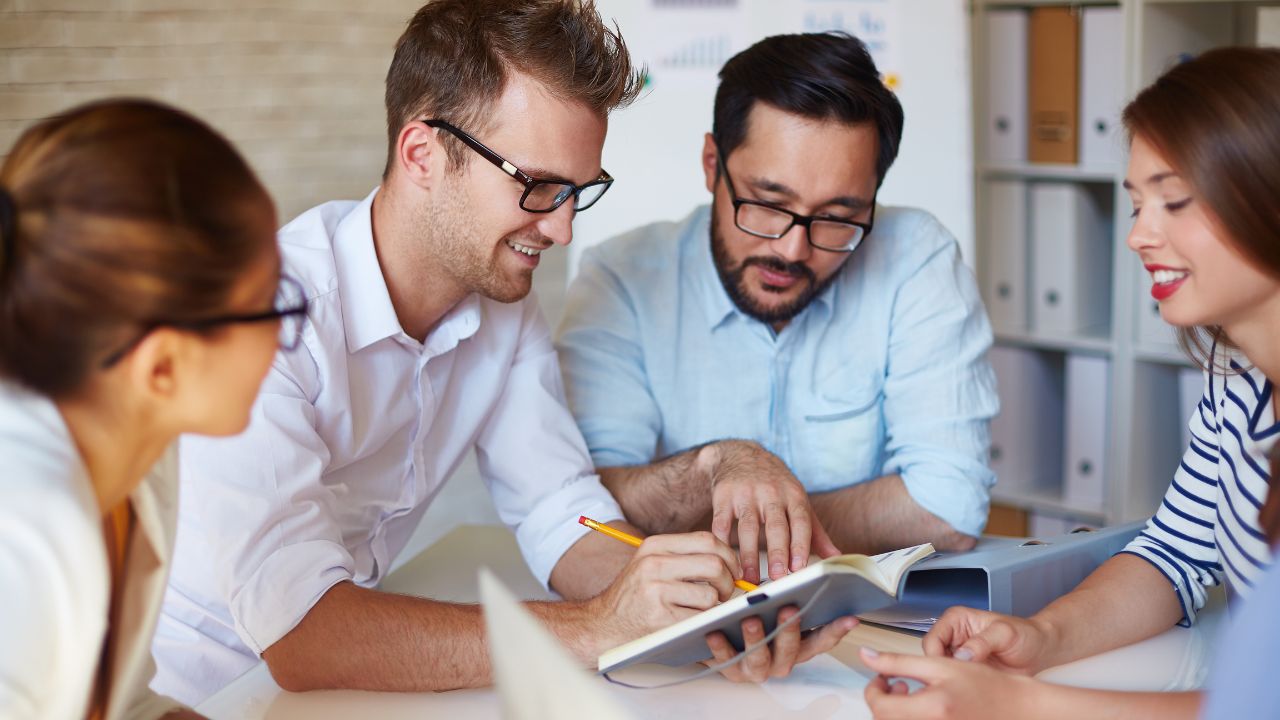 Una de las secciones clave de un plan de empresa es la que describe el plan de crecimiento o ampliación de la empresa.  Esto suele implicar la contratación de personal, que suele representar el mayor gasto corriente de una empresa.  Por eso, es importante planificar exactamente a quién se contratará, cuánto se le pagará y cuándo se incorporará el personal al equipo.
¿Cómo debe ser un plan de personal?
La sección de personal de un Plan de Empresa debe contener los siguientes componentes.
Descripciones de los puestos de trabajo – Las descripciones de los puestos de trabajo deben proporcionar suficientes detalles para que comprenda la función del puesto de los posibles contratados.
Organigrama – Un organigrama muestra quién trabajará para quién y permite hacerse una idea general de la estructura general de gestión y personal de la empresa.
Tipo de contratación – El personal puede ser por salario o contratista independiente. Es importante distinguir entre estos dos tipos de trabajadores a efectos fiscales y de cumplimiento de la normativa laboral.
Monto de salario – Deben incluirse detalles sobre el salario anual o por hora.
Supuestos salariales – los supuestos comunes incluyen una estimación de los aumentos a lo largo del tiempo (por ejemplo, 5%) y una tasa de carga asignada para cubrir los beneficios de la empresa como el seguro de salud (por ejemplo, 20% de los costes salariales).
Cuando tendrá lugar la contratación – La contratación de personal suele realizarse a lo largo de un periodo de tiempo y de forma escalonada. Por ello, es útil incluir detalles sobre cuándo empezará a trabajar un empleado concreto. Si va a tener personal temporal o contratistas, también debe especificar cuándo terminará el empleo.
¿Qué aspecto tienen las cifras?
El cuadro que figura a continuación es un ejemplo de la sección financiera de un plan de empresa. Sólo tiene fines ilustrativos y cada plan es único y requiere una adaptación para satisfacer las necesidades específicas de la empresa.
| | | | | | |
| --- | --- | --- | --- | --- | --- |
| | FY2015 | FY2016 | FY2017 | FY2018 | FY2019 |
| Programador | $0 | $48,000 | $50,400 | $52,920 | $55,572 |
| Ventas – 2 Vendedores | $0 | $48,000 | $50,400 | $52,920 | $55,566 |
| Gerente de ventas | $0 | $0 | $24,000 | $25,200 | $26,460 |
| Jefe de Marketing | $0 | $0 | $0 | $24,000 | $25,200 |
| Gerente de distribución | $0 | $0 | $0 | $0 | $24,000 |
| Fundador 1 – Fundador Fundador | $91,667 | $105,000 | $110,250 | $115,763 | $121,551 |
| Fundador 2 | $0 | $100,000 | $105,000 | $110,250 | $115,763 |
| Fundador 3 | $0 | $100,000 | $105,000 | $110,250 | $115,763 |
| Total | $91,667 | $401,000 | $445,050 | $491,303 | $539,875 |
¿Cómo debe ser la explicación de un Plan de Personal?
El detalle que figura a continuación es un resumen de algunas de las posibles explicaciones que podrían incluirse en un Plan de Personal para los datos anteriores.  La descripción es un extracto del lenguaje que podría utilizarse.
La empresa empezará utilizando a los tres fundadores y se han asignado salarios para cada uno de ellos de 100.000 dólares al año. El fundador 1 empezará a percibir un salario en el ejercicio 2015, mientras que los otros dos fundadores lo harán en el ejercicio 2016.    Los fundadores también percibirán los dividendos que emita el Consejo de Administración.
El presupuesto contempla la contratación de 2 empleados en el área de ventas en el ejercicio 2016 y un ingeniero de software . Hasta ese momento, una de las fundadoras especializada en desarrollo de aplicaciones (Hellen Bussiere), trabajará en el desarrollo de la parte tecnológica del negocio.  Además, el plan incluye la contratación de un vendedor al año. El personal de ventas ganará unos 25.000 dólares al año.  En el cuarto año, la aplicación estará terminada y contrataremos a un responsable de marketing para promocionar el producto. El jefe de marketing ganará 24.000 $ al año y será un puesto a tiempo parcial.  En el año 5, se contratará a un jefe de distribución, que también trabajará a tiempo parcial y ganará 24.000 dólares al año.
La descripción completa de los puestos de trabajo figura en el apartado A.2 del plan. 
El número total de empleados a finales del año 5 es de 9 personas (incluidos los fundadores).  Se trata de una estimación modesta que puede aumentar significativamente si se inscriben más usuarios.
Todos los salarios incluyen un aumento estimado del 5% anual.  Se ha incluido un 20% de los costes salariales para prestaciones como la asistencia sanitaria y la equiparación del 401K.
Scott Legal, P.C. regularmente prepara planes de negocios para visas E-2, Visas L-1 y visas EB-5.  Damos la bienvenida a la oportunidad de asistirle.
Para obtener más información sobre la redacción de planes de negocios, haga clic aquí.
FREE Visa Resources
Click on the buttons below in order to claim your free Visa Guide (E-1, E-2, TN, EB-5, H-1B, L-1, PERM, NIW, EB-1, O-1, E-3), sign up for our free Webinar, join our Facebook Group, or watch our videos.
Download FREE Visa Guide
Sign Up For Our Webinar
Join Our Facebook Group
Watch Our Videos
Set up a Visa or Green Card Consultation
For a dedicated one-on-one consultation with one of our lawyers, click on the button below to schedule your consultation.
Schedule a consultation
This website and blog constitutes attorney advertising. Do not consider anything in this website or blog legal advice and nothing in this website constitutes an attorney-client relationship being formed. Set up a one-hour consultation with us before acting on anything you read here. Past results are no guarantee of future results and prior results do not imply or predict future results. Each case is different and must be judged on its own merits.