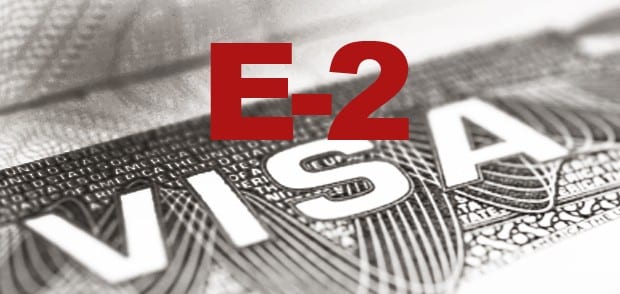 An E-2 visa is not a dual intent visa but it is about as close to a dual intent visa as you can get.  You can find out more about immigrant intent and dual intent by clicking here.  For E-2 visas, normally a Consulate will permit an applicant to simply sign a declaration that they plan to return to their home country at the end of the E-2 status.  Unlike other non-immigrant visas, the applicant is not required to maintain a home in their home country and the letter is normally enough to establish non-immigrant intent.  This is even the case for investors that have been in the U.S. for an extended period of time.   What if the E-2 applicant has expressed some manifestation of immigrant intent?  Specifically, what if the E-2 applicant has filed an immigrant petition and they want to renew their E-2 visa?
The regulations governing Consular processing for E-2 visas also contemplates this scenario.
9 FAM 402.9-4(C)  Intent to Depart Upon Termination of Status
(CT:VISA-569;   04-06-2018)
An applicant for an E visa need not establish intent to proceed to the United States for a specific temporary period of time, nor does an applicant for an E visa need to have a residence in a foreign country which the applicant does not intend to abandon.  The alien may sell his or her residence and move all household effects to the United States.  The alien's expression of an unequivocal intent to depart the United States upon termination of E status is normally sufficient.  An applicant who is the beneficiary of an immigrant visa petition will need to satisfy you that his/her intent is to depart the United States at the end of his/her authorized stay, and not stay in the United States to adjust status or otherwise remain in the United States.
The highlighted portion clearly states that the renewal could be impacted, and the applicant should be prepared to explain that they do not plan to adjust status in the U.S.  The possible issue or risk is higher also if the immigrant petition will be adjudicated quickly and the green card category is current. (For example, someone who files an extraordinary ability petition can opt for premium processing and could have a current green card category that could result in a green card in a year. This will likely be treated differently from someone who has for example a sibling based family based petition filed on their behalf where they have a 14 year wait for the green card.
You should keep in mind that Consular processing is different from filing a petition while in the U.S. and no due process exists at Consulates. Accordingly, an officer will assess intent during your consular interview.  Even without having an immigrant petition filed on your behalf, visas and/or admission to the U.S. are denied based on immigrant intent.  While immigrant intent is less likely to come up with an E-2 visa, an applicant with an outstanding or approved immigrant petition should be aware that immigrant intent is something that is assessed when you renew (or enter the U.S.) and the filing of an I-140 petition is something that can be used as an indication of immigrant intent. The DS-160 form asks if anyone has filed an immigrant petition on your behalf, and the reason they are asking the question is to assess immigrant intent.  This alone may not be enough to cause a denial, but it is relevant.
To conclude, if you have an I-140, I-130 or I-526 pending or approved, a Consular officer would likely ask about this at an E-2 interview and would consider it.  This could also impact your admission to the U.S. on the E-2 visa.    An officer may still approve the petition if you convince the officer that you did not plan to adjust status in the U.S.  We recently did an E-2 Visa application at a Consulate where the person won the visa lottery but could not get the green card until the following July (over 1 year later) and the offer asked about the plans the applicant had and whether they planned to adjust status in the U.S. when their lottery number came up.  The officer still approved the petition, but some officers may have taken a different position.
FREE Visa Resources
Click on the buttons below in order to claim your free Visa Guide (E-1, E-2, TN, EB-5, H1-B, L-1, PERM, NIW, EB-1, O-1, E-3), sign up for our free Webinar, join our Facebook Group, or watch our videos.
Download FREE Visa Guide
Sign Up For Our Webinar
Join Our Facebook Group
Watch Our Videos
Set up a Visa or Green Card Consultation
For a dedicated one-on-one consultation with one of our lawyers, click on the button below to schedule your consultation.
Schedule a consultation
This website and blog constitutes attorney advertising. Do not consider anything in this website or blog legal advice and nothing in this website constitutes an attorney-client relationship being formed. Set up a one-hour consultation with us before acting on anything you read here. Past results are no guarantee of future results and prior results do not imply or predict future results. Each case is different and must be judged on its own merits.