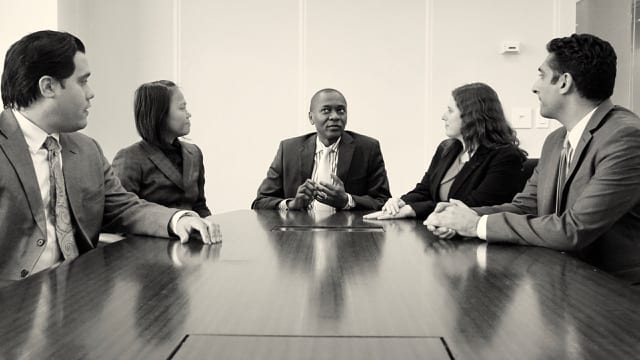 An individual is "inspected and admitted" when they present themselves to a Customs and Border Patrol Officer at a port of entry (a U.S. border crossing or an airport entering the U.S.) in order to enter the United States. The concept of being "inspected and admitted" is very important in the context of applying for a green card through a U.S. citizen immediate relative. An immediate relative in this context is defined as a U.S. citizen's spouse, a U.S. citizen parent (if the U.S. Citizen is over 21), or the child of a U.S. citizen (if the  child is under 21). Unlike other green card categories, if someone was inspected and admitted and ultimately overstay in the United States, they are still able to adjust status (obtain a green card while in the U.S.) through an immediate relative even though they are not lawfully present in the United States.  In this case, the law "forgives" both unauthorized work and unlawful presence for people in this category.
However, this benefit is only available if you were "inspected or admitted." If you crossed the border without a proper visa or documentation, based on the law you have "entered without inspection" and therefore you are not eligible to adjust status in the U.S. to a green card even if you have a U.S. citizen immediate relative. Depending on the circumstances of your case, you may be eligible for a provisional waiver which is a much more complicated process. For more information on provisional waivers, please click here.
As you can see, knowing whether you have been "inspected and admitted" is of great importance for purposes of knowing whether you might be eligible for adjustment of status through an immediate relative. The most obvious form of being admitted is when you present yourself at the border with a valid visa and a border patrol officer permits your entry.
However, there are two other forms of entry that may be considered an admission for purposes of adjustment of status. The first is a wave-through. There are times when someone presents themselves for admission at a port of entry, notably at land crossings, and the border patrol officer waves them through. So long as the immigrant did not make any false claims to U.S. citizenship at the time of presenting themselves for inspection, this is a proper admission even if the immigrant did not possess a valid visa. If someone has been waved-through and can properly evidence this to the Immigration Services, he or she should be eligible for adjustment of status through an immediate relative.
The second form of entry that may be considered an admission is when someone enters using fraudulent documents, so long as those documents did not claim the individual was a U.S. citizen. While this form of entry certainly makes someone inadmissible for having perpetuated fraud and misrepresentation, in some jurisdictions in the U.S. but not all, this is considered a valid admission according to case law, and thereby would be eligible for adjustment of status. Such an individual would nonetheless require a waiver for fraud and misrepresentation which can be very difficult to approve, and therefore anyone in this situation should be well aware of the risks which includes potentially being deported.  In all situations, alleging that you are a U.S. citizen to gain entry into the U.S. is not considered an admission and will make you further inadmissible for such a false claim. There is generally no waiver available for a false claim to U.S. citizenship
You should consult with an immigration lawyer if you are unlawfully present in the United States to determine whether you have any relief. If you think you may have been admitted pursuant to a wave-through or through false documents, it is especially important that an attorney determine whether you can successfully prove that you were admitted, and whether you have any chance of success of obtaining a waiver for fraud or misrepresentation if that is applicable. Immigration law is complicated and is constantly changing—therefore, consulting with an experienced practitioner is imperative as everyone has a unique case and present their own facts and circumstances.
FREE Visa Resources
Click on the buttons below in order to claim your free Visa Guide (E-1, E-2, TN, EB-5, H-1B, L-1, PERM, NIW, EB-1, O-1, E-3), sign up for our free Webinar, join our Facebook Group, or watch our videos.
Download FREE Visa Guide
Sign Up For Our Webinar
Join Our Facebook Group
Watch Our Videos
Set up a Visa or Green Card Consultation
For a dedicated one-on-one consultation with one of our lawyers, click on the button below to schedule your consultation.
Schedule a consultation
This website and blog constitutes attorney advertising. Do not consider anything in this website or blog legal advice and nothing in this website constitutes an attorney-client relationship being formed. Set up a one-hour consultation with us before acting on anything you read here. Past results are no guarantee of future results and prior results do not imply or predict future results. Each case is different and must be judged on its own merits.