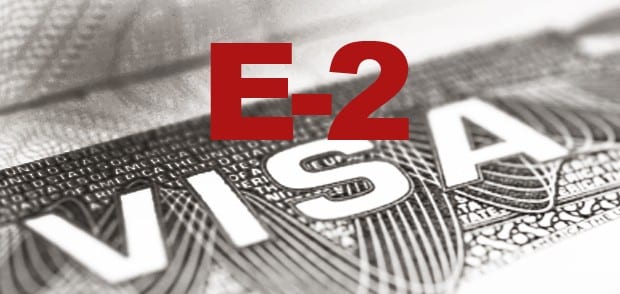 An E-2 investor visa is an excellent option for certain foreign nationals who seek to start and develop a business in the United States. This classification permits investors and their immediate family to live in the United States, the investor's spouse may obtain work authorization for the duration of their stay, and the visa may be renewed indefinitely as long as the E-2 enterprise remains E-2 compliant. (for more information on how to maintain an E-2 compliant business, please click here.)
Prospective clients routinely ask : What are my chances of getting an E-2 visa? This is an excellent question to ask prior to commencing the E-2 investment process, as the E-2 visa requires a significant amount of up-front investment which will not be returned if the visa is denied. Each applicant should be keenly aware of the E-2 visa requirements (discussed in detail here) and their chances of success prior to making a decision. The E-2 application process can be daunting, and will require proper planning to be successful. However, prospective investors should note that most E-2 visa applications are approved, and with proper planning and execution, your application can be approved too.
E-2 Visas by the Numbers
According to the Department of State, the E-2 visa classification has seen significant growth in the past five years. The U.S. Government received a total of 57,613 (up from 43,450 applications in 2013) visa applications in the fiscal year of 2016, of which 44,243 were approved for an approval rate of approximately 77%. Japan has received the most E-2 approvals, followed by Germany, France, Canada and Great Britain. The data shows that the E-2 visa has seen steady growth in applications and has an average approval rate of approximately 80% for the past 5 years. Thus, most E-2 visa applications get approved. You should keep in mind that many of the denials result from applicants filing on their own so the approval rate for applications filed by counsel is likely much higher than 80%.  Scott Legal, P.C. has processed many E-2 visa applications successfully for applicants that were denied who applied on their own. Scott Legal, P.C.'s approval rate is 98%. (past results do not predict future outcome).
Why do E-2 Applications get Denied? How to Stay out of the 20%
As discussed above, proper planning and execution of an E-2 visa investment will significantly increase the likelihood of success when applying. While the approval rate of E-2 visas is high, many prospective clients wish to know why E-2 visas are denied. While each case is different, all denials involve one or a combination of three key aspects of the E-2 application: the applicant, the investment, or the business.  One key way to significantly improve your changes of E-2 visa approval is to hire competent legal counsel to assist you.  For more information on why E-2 visas are denied, please click here.  Specific reasons for denial are also listed below.
Denials involving the Applicant
The E-2 visa requires that the investor applicant be in the position to develop and direct the enterprise. This requirement often goes beyond the corporate ownership of the company and officers routinely examine the investors academic and professional background to determine whether the applicant has the requisite skills and experience needed to successfully run the enterprise. If you are planning to apply for an E-2 visa, you should be able to demonstrate some competency in the industry that the E-2 company will operate in (or show that you will hire people to assist). Professional degrees and experience help demonstrate the skills needed to meet this requirement. For example, an investor applicant who has significant managerial experience running a large corporation will easily meet this requirement. However, an applicant with little to no work experience may find it challenging to prove they have the requisite skills to run a business.
Denials involving the investment
Many E-2 denials revolve around the investment presented in the application. The E-2 visa requires that the applicant invest a "substantial" amount in the U.S. in order to qualify.  Some denials stem from the examiner's assessment that the investment amount is too low (investment amounts under $100,000 are often met with questions from a reviewing officer; click here for more information on the E-2 investment amount), or an applicant failed to provide adequate documentation to prove that the funds or assets used to make the E-2 investment came from a legitimate source (for more information on the documentation required to prove source of funds, click here.)
Denials involving the business
The regulations do not specify any restrictions on what type of business may qualify for an E-2 visa. Most legitimate businesses could qualify for an E-2 visa if they have the potential to operate profitably and hire several US workers. However, some businesses are more conducive to an E-2 approval than others, and it is important to keep in mind that consultancy firms and other service-oriented businesses are riskier cases than an operating business with many employees as these cases may have difficulty showing that the business is not a marginal enterprise (i.e. makes enough money to support more than just the applicant and his family. (That being said, the majority of the cases Scott Legal, P.C. deals with are service businesses and the firm was founded on an E-2 visa.)   Click here for more information on the marginality requirement.)
There are many other reasons why an E-2 visa application may have been denied which have little to do with the merits of the application, such as which consulate the application filed an application with, or the interpretation of a certain consular officer. Scott Legal, P.C. has processed hundreds of E-2 applications with a 98% approval rate (past results do not guarantee future outcome). Immigration law is very complex and it is crucial to work with the right immigration attorney to maximize your chances of success. If you are considering an E-2 Visa, contact Scott Legal, P.C..  For more information on this and other immigration Visas click here.  You can also call us at 212-223-2964 or email us at info@legalservicesincorporated.com.
This website and blog constitutes attorney advertising. Do not consider anything in this website or blog legal advice and nothing in this website constitutes an attorney-client relationship being formed. Set up a one-hour consultation with us before acting on anything you read here. Past results are no guarantee of future results and prior results do not imply or predict future results. Each case is different and must be judged on its own merits.