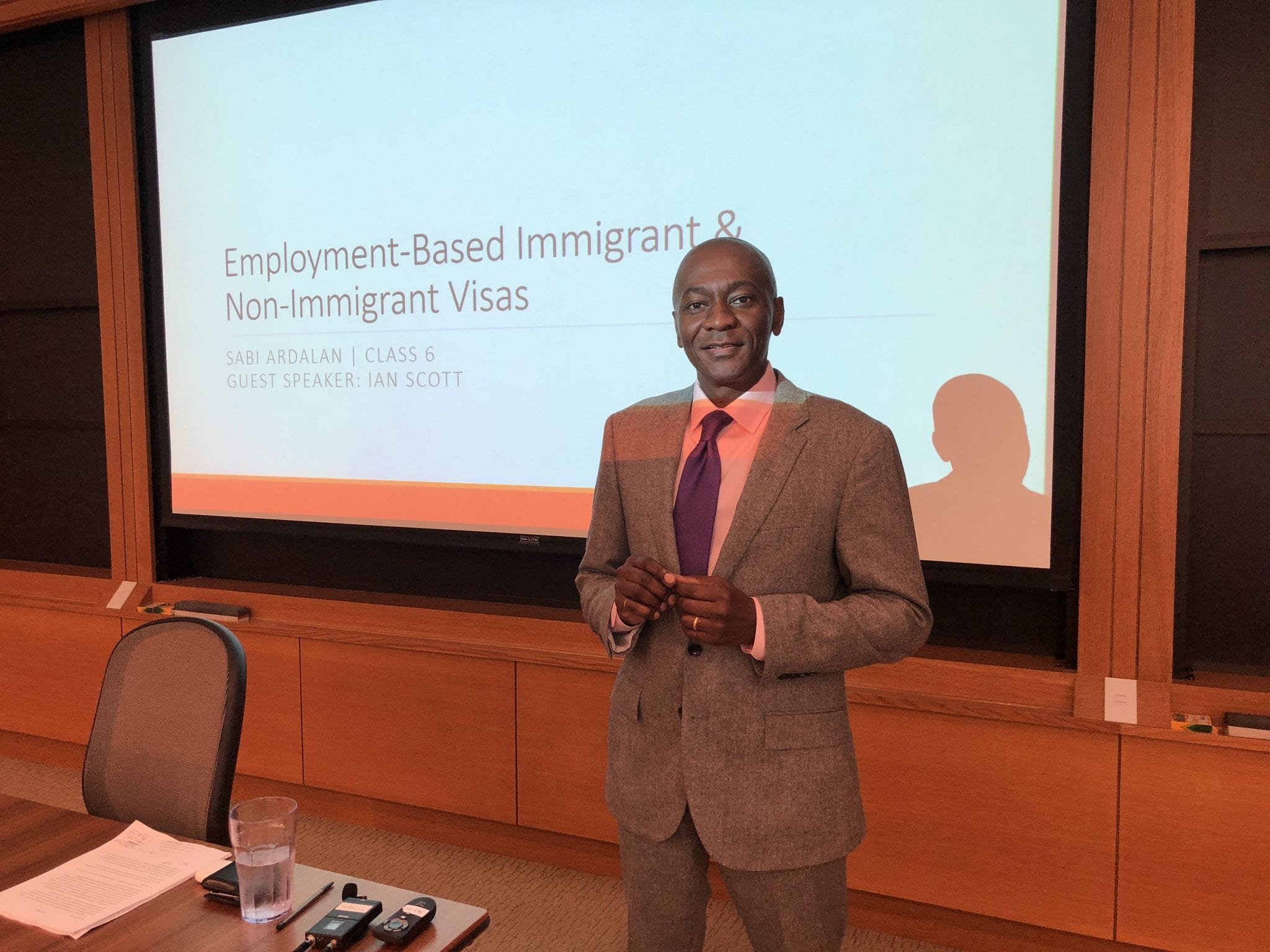 Ian E. Scott recently lectured at Harvard Law School to the Immigration Law School class.  The lecture focused on business immigration and covered visa topics such as H-1B, E-2, EB-5, L-1, O-1, EB-1, EB-2 and F-1.  Mr. Scott lectured for one hour and then worked on a case study with the class.  A summary of the Case Study and the solutions are also included in this post.  This is the second year that Mr. Scott has been asked to be a guest lecturer at Harvard Law School.
The Case Study and Solution is below:
Dear Associate:
I just had a consultation on Monday with a prospective client who needs our firm to develop an immigration strategy for him and his family. Please draft a memo that outlines the visa options for Mr. Braun and Ms. Struck along with a summary of the visa requirements for each visa type.  Please also list any questions for the clients that may be relevant to the assessment.
His name is Thomas Braun and he was born in Germany and also has a Canadian passport.  He has a BA degree in Economics from Harvard University and extensive work experience.  He is 45 years old.  Mr. Braun has a fiancé and his fiancé has two children (20 and 5 years old).  His fiancé (Helen Struck) is a national from China and is currently in the U.S. on an F-1 student visa.  Mr. Braun also has a Master's degree in Engineering from MIT and he recently received approval for a patent for a revolutionary new process to make aircraft engines more efficient.  He has also published articles in his field in several academic journals internationally and in the U.S. 
Mr. Braun runs a business in Germany (ABC Inc.) and has done this for the last 10 years. 
Mr. Braun would like to expand the operations of ABC Inc. and try his luck with the U.S. market.  He has $100,000 in his personal bank account and substantial assets. 
Ms. Struck has a job offer from a multinational company when she graduates at the end of 2017 for a Chief Engineer position that she is considering.  The job pays $250,000 per year.   Ms. Struck recently received $1,500,000 from her father who regrettably passed away.  He lived in China and the money is still in a Chinese bank account. 
VISA OPTIONS
Ms. Struck
F-1: As she is on an F-1 visa, she is eligible for OPT after graduation which would allow her to work for one year. Given her degree (Engineering) she would likely also be eligible for a further 24-month extension. (STEM extension). Her dependents would get a dependent visa (F-2) and the F-2 would not allow Mr. Braun to work.  Ms. Struck has a child that is 20 and this child can only stay on the F-2 until they turn 21. After that time, they would have to find another visa or leave the country.
H-1B: An H-1B only requires that the applicant have a U.S. bachelor's degree or its equivalent and the job must also require that degree.  Ms. Struck then clearly qualifies.  As she is doing a Master's of Engineering program in the U.S. she is eligible for the Master's H-1B CAP.  Every year, far more people apply for an H-1B visa than available slots so they run a lottery to see which petitions they will adjudicate.
EB-5:  She has funds to invest in the EB-5 program where she can invest $500,000 in a project that will create 10 full time jobs.  This is a green card and her husband and spouse would also be able to join in the green card process. There are two potential problems.  First, as she is a Chinese national, the green card will not be available for likely 10 years due to the visa retrogression.  Also, she must show that the money came from a legitimate source and trace the funds from potentially China to here and that at times can be a problem.
EB-2 & EB-3 (PERM): This is the traditional green card where a company sponsors you and test the labor market to see if they can find any qualified U.S. people. It is a very long and difficult process.  There would be a wait for Ms. Struck given the retrogression.   Spouse and children join in this process as long as the children are under 21.
Mr. Braun
TN: Canadian citizens are eligible for a visa based on a list of professions designated by the NAFTA Treaty (eg. Lawyer, doctor, graphic designer, nurse, etc.).  The process is very simple and dependents can get a TD visa even if they are not Canadian.  The spouse and children can go to school but cannot work.  The visa is issued for 3 years and can be renewed indefinitely.  He would need a job offer though as TN does not work for self-employment.
L-1: If Mr. Braun has worked for an entity outside of the U.S. for at least one year, that entity could bring him over as an executive, manager or specialist on an L-1 visa.  A qualifying relationship must exist between the company in the U.S. and the company abroad. This visa is a dual intent visa so he can more easily apply for a Green card using this.
E-2: This visa is available to foreign nationals who want to buy or start a business in the U.S. The visa is available to nationals from around 80 countries and both Canada and Germany are on the list. Birth place is not relevant but instead you must be a citizen of the country.  The business would have to ultimately create U.S. jobs and the investment amount is usually around $100,000-$200,000.  As such, Mr. Braun would be eligible for this.  The applicable country is either Canada or Germany as the E-2 is based on where you have a passport.
H-1B:  Same discussion as Ms. Struck but he would need a job offer.
EB-5: Same discussion as Ms. Struck except this category is current for Germans (remember the country of chargeability is the country of birth).  As such, he may be able to get a green card in a couple of years.  He could use his ranch as collateral for a loan to invest in the EB-5 program.  Even though his wife was born in China, she would get a visa along with him and not have to wait.
EB-1: Extraordinary Ability or EB-2 (National Interest Waiver): These are both green card options that do not require an employer.  Given his invention, patent, publications and background, he may be able to qualify for these visas.  These categories are either "current" or almost current so he would not have to wait long for the green card.  The bar is very high but given his background, these are very good options. The spouse and children could also join in the green card process. (Children only if under 21)
O-1A or O1B: Exact same analysis as above as these are extraordinary ability categories but this is the non-immigrant (not a green card) version of this visa.  As such, they are issued for a limited duration.
EB-2 & EB-3 – PERM: – This is the traditional green card where a company sponsors you and test the labor market to see if they can find any qualified U.S. people. It is a very long and difficult process.   Spouse and children join in this process.   He would need a job offer.
FREE Visa Resources
Click on the buttons below in order to claim your free Visa Guide (E-1, E-2, TN, EB-5, H-1B, L-1, PERM, NIW, EB-1, O-1, E-3), sign up for our free Webinar, join our Facebook Group, or watch our videos.
Download FREE Visa Guide
Sign Up For Our Webinar
Join Our Facebook Group
Watch Our Videos
Set up a Visa or Green Card Consultation
For a dedicated one-on-one consultation with one of our lawyers, click on the button below to schedule your consultation.
Schedule a consultation
This website and blog constitutes attorney advertising. Do not consider anything in this website or blog legal advice and nothing in this website constitutes an attorney-client relationship being formed. Set up a one-hour consultation with us before acting on anything you read here. Past results are no guarantee of future results and prior results do not imply or predict future results. Each case is different and must be judged on its own merits.