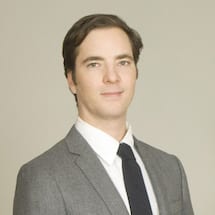 We are pleased to announce that Nathaniel Howard, Esq. will join Scott Legal, P.C. on April 10, 2017 as an immigration associate in our New York office.  Mr. Howard has a Juris Doctor degree from Brooklyn Law School (2010) and graduated with a Bachelor's degree in English and East Asian Studies from Oberlin College.
During law school, Mr. Howard was a public interest fellow and showed a demonstrated interest in immigration law and human rights. After working with Human Rights First during his first and second years of law school, he became familiar with a number areas of immigration law, and he went on to take a position with the Catholic Charities Immigration Services providing immigration assistance to low-income clients.
Immediately prior to joining Scott Legal, P.C., Mr. Howard worked as a lawyer at a mid-sized immigration firm in New York where he offered his clients both business immigration expertise and corporate and business law services.  As an associate attorney, he spent the last several years focusing primarily on business immigration matters with a focus on filing E-2 Visa and L-1 Visa petitions.  In this capacity, he worked very closely with business owners and entrepreneurs to assist them to achieve their goal of either starting a business in the U.S., purchasing a business or opening a branch office in the U.S..  Mr. Howard's business immigration experience is vast and spans across multiple countries and continents.  Nathaniel also has extensive experience in a number of other immigration fields where he has assisted clients with VAWA petitions, asylum work, deportation/removal cases, waivers and EB-5 Investor Visa petitions.
Mr. Howard's legal experience also extends beyond immigration. As an lawyer and associate attorney, he regularly set up business entities, drafted corporate articles, negotiated shareholder agreements, drafted escrow agreements and provisions, reviewed vendor contracts, drafted complex operating agreements, formulated comprehensive business plans and executed purchase sale agreements.  Mr. Howard has also worked as a lawyer performing corporate legal services related to various types of business actions including; contract drafting and review, anti-monopoly actions, internal investigations and SEC actions.
Nathaniel Howard is Admitted to the New York State Bar and the Commonwealth of Massachusetts Bar. He is an active member of the American Immigration Lawyers Association (AILA), the New York State Bar Association and the Massachusetts Bar Association.
Please join us in welcoming Nathaniel Howard to the firm.  You can reach Nathaniel at nhoward@legalservicesincorporated.com.