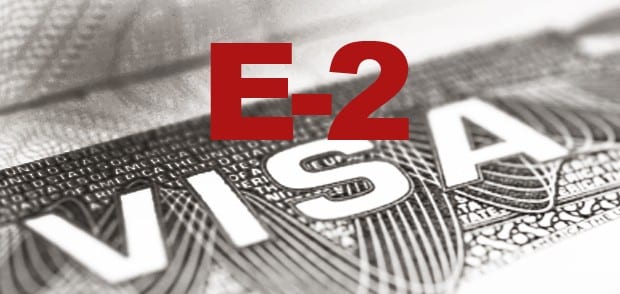 An E-2 visa is a visa classification that is available for foreign nationals who wish to live in the U.S. to develop and direct the operations of a business. The business can be large or small and an E-2 visa is a great Visa option for those who want to start a business. In order to qualify for the E-2 visa, applicants must meet specific requirements outlined in the requirements/eligibility section below.
E-2 visa can be issued up to 5 years, depending on which nationality you have. Please see a list of E-2 countries and for how long an E-2 visa can be issued for each country when you click here.
Example
You are a national of Canada and you were granted an E-2 visa for 5 years in 2016. Your visa is expiring in 2021 and you are wondering what kind of documents you will have to provide for your E-2 renewal application.
This will depend on your business, but you will generally have to provide:
The U.S. Company's tax returns for the past 5 years
The U.S. Company's W-2s/1099 forms for the past 5 years and recent payroll showing how many employees you currently have
Description of the company's progress, development in the past 5 years
Letters of Intent with ongoing/future clients
Agreements with clients
Valid lease agreement
Company's bank statements showing ongoing commercial activity
New Business Plan & 5 years of Financial Projections (in some cases this may be beneficial)
Profit and Loss statement & Balance Sheet for the Calendar year
Updated website screenshots if applicable
Updated office photos if applicable
Updated marketing materials
Photos of projects (if applicable for your type of business)
I did not hire all the employees/have not reached the revenue from the original Business Plan. Will this be a problem?
Not necessarily, but you should be ready to explain why you have not hired all the employees/why the revenue numbers are lower than you originally expected. For example, if you originally planned to hire 7 full time employees but you only have 4 employees in year 5 of operations, this should be fine. On the other hand, if you planned to have 3 employees by year 5 and you have 0 employees at the time of your renewal, this will definitely be an issue and your renewal will most likely not be approved.
Do I have to make an additional investment when renewing the E-2 visa?
No. But if you invested additional money in the business, this could be included in your renewal application (but you will have to provide source and trail documents for the additional investment).If the money for the additional investment comes from your salary/dividends or for example sale of a property, then it could be described as an additional investment. On the other hand, if the money comes from the Company's revenue, then this could not be considered as an additional investment for E-2 visa purposes, but it could still be mentioned in the application.
Will I need to prepare a new Business Plan?
Not necessarily. If the business has been doing well, you have 3-5 full-time W-2 employees, the revenue has been growing every year and the business is successful, then you would not have to submit a new business plan. However, if the business has no employees (or only has 1-2 employees) and/or the revenue is decreasing, we would recommend to submit a new business plan in which you will describe what you plan to do to put the business back on its feet.
Should I renew my visa at a Consulate or should I extend my status with USCIS?
This will depend. If you extend your status with USCIS, then the extension will only be valid for 2 years, and once you leave the U.S. you will have to renew your visa at a Consulate anyway.
Additionally, if you obtained your original E-2 visa at a U.S. Consulate but you want to file an extension with USCIS, USCIS could still request the documents pertaining to the original E-2 petition e.g. source/trail of funds documents).
How many times can I renew my visa? Is there any limit as to how many times can I renew my visa?
No. You can keep renewing your E-2 visa indefinitely as long as you meet the E-2 visa requirements.
Please see our blog post on whether you can get two E-2 visas when you click here.
Please click here to read our blog post on whether you need an office space for the E-2 visa.
This website and blog constitutes attorney advertising. Do not consider anything in this website or blog legal advice and nothing in this website constitutes an attorney-client relationship being formed. Set up a one-hour consultation with us before acting on anything you read here. Past results are no guarantee of future results and prior results do not imply or predict future results. Each case is different and must be judged on its own merits.