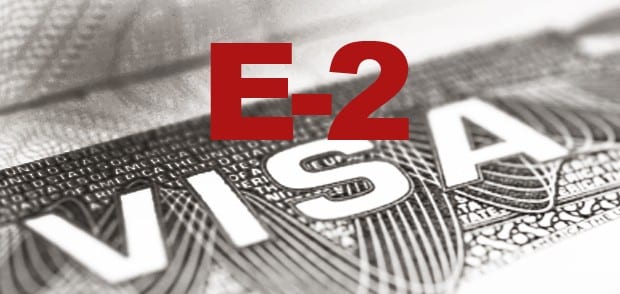 For many foreign investors, the E-2 visa is an excellent option for those looking to live and work in the United States. The E-2 visa permits its holders to live in the United States, work for the E-2 enterprise, and bring their spouse and minor children to the United States as well. The E-2 visa provides other ancillary benefits, such as work authorization for the primary visa holder's spouse and the ability to renew the visa indefinitely if the underlying enterprise remains E-2 compliant.  You can find out more about the E-2 visa by clicking here.
E-2 visa regulations permit the applicant to start-up a new business or purchase an existing business. In many ways, purchasing an existing business offers many benefits to the applicant and presents strong E-2 applications. Generally, certain types of businesses are seen more favorably by consular officers than others, and purchasing an E-2 friendly company is one of the best methods of securing an E-2 approval. In this blog, we'll discuss some considerations to keep in mind when purchasing an E-2 business.
Due Diligence & Pre-Purchase Considerations
As with every business endeavor, purchasing a business comes with a certain amount of inherent risk. When purchasing a business for an E-2 visa, that risk becomes amplified, as you must commit to purchasing the business prior to applying for the visa. This exposes you to risk on two fronts: i.) the business may fail commercially and ii.) the E-2 visa may be denied. It is therefore crucial that you maximize your chances of approval by ensuring that the business is healthy and viable, and it is the type of business that can get approved for an E-2 visa.
Before purchasing the business, you should carefully scrutinize the company's financial statements, tax returns, and lists of assets to ensure you are paying what the business is worth. No one wants to pay the purchase price of $500,000 only to find out the company has assets worth $150,000 and loads of business debt. To prevent this, independent verification is warranted, and this process is called due diligence. That is, due diligence is an assessment that is done before the closing of a sale where the buyer independently verifies the assertions and representations made by the seller.  Due diligence will also expose weaknesses of the business that could have an affect on the E-2 application. For example, an examination of the company's tax returns may reveal that the business is has lost money for the past two years, presenting issues of the company's viability that a consular officer may pick up on.
To learn more about due diligence, please click here.
Is the Business Purchase Arms-Length?
Another important consideration when purchasing an E-2 compliant business is whether the purchase is an "arms-length" transactions. An "arms-length" transaction refers to a transaction between two disinterested parties (i.e. not related in any way). These types of transactions lend weight to the underlying purchase as the government may assume that both parties are looking out for their best interest. Thus, potential E-2 applicants should be prepared to explain purchase transactions between family members, as the government may scrutinize these transactions more closely and may demand an independent valuation.
Is the Business a good E-2 Enterprise?
If the ultimate goal of purchasing a business in the United States is to secure an E-2 visa, it is important to make sure that the potential business is E-2 compliant. When reviewing E-2 applications, the government typically looks at the company's performance and potential to hire employees to determine of the company is viable and if it can hire employees. To qualify for the visa, the business must have the potential to provide for more than just a living for the applicant and his/her family (this is known as the marginality requirement. For more information on marginality, please click here.) A good way to look at the E-2 visa is as a job creation program; your focus should be securing a business that has several employees or the potential to hire employees in the immediate future. Note that E-2 regulations require that the business be an "active, for-profit" enterprise. Thus, companies that serve as passive investments (such as a real estate holding company with few properties) do not qualify for the E-2 visa.
Successful E-2 businesses often employ a labor-intensive business model. Some examples of strong E-2 companies are restaurant franchises, which require several employees (3-5) to prepare and serve the food. Other businesses could include retail operations (for example, a company that manufactures a product and sells it online), general contracting companies (for example, a contractor that specializes in sale and installation of insulation) or an auto repair shop. The key takeaway is that the prospective business purchaser should look for business that already have employees.  The ideal number is 3-5 employees and the business should either have the employer or there should be a good explanation of why the applicant will hire several employees (ideally more than 3-5) or have the potential to hire employees in the immediate future.
Many prospective business owners present business that are owner managed with zero or 1 employee and these usually are not good E-2 businesses.
How Much Revenue Should the E-2 Business Have?
There is no set dollar figure of revenue that represents an ideal E-2 visa but rather the revenue should be enough to support the salaries of the employees and the owner.  For example, a business that is making $200,000 and has 4 full-time employees is better than a business that has $500,000 in revenue with zero employees.  The tax returns are the best evidence of a company's profitability and staffing.  Business that conduct "under the table" transactions are usually not good E-2 business as the revenue cannot be validated. If the tax returns do not report the revenue, the Government assumes that it does not exist.
Pick the Business That Highlights Your Strengths
E-2 regulations require that the investor applicant be in a position to "develop and direct" the enterprise. That is. The investor must work at the company and supervise its operations, business development, and strive to grow its operations. Therefore, it is prudent to purchase a company that squarely fits in your professional background. For example, if you have 20 years of experience as a car mechanic, and ran an auto repair shop for 10 years before applying for the E-2 visa, purchasing an auto repair shop puts you in the best position for an E-2 approval. Likewise, managerial experience and a business administration background also strengthen your application. While you are not limited to your field of experience when determining what business to buy, you should avoid certain businesses if you do not have some experience with its industry. For example, purchasing a contracting company that specializes in the installation of caisson foundations may not be a good idea if you do not have any experience in engineering or the contracting business. Focusing on finding a business that fits your experience is the best way to present a cohesive narrative throughout your E-2 application.   In some cases, this knowledge can be learned (eg. when you buy a franchise they usually provide training).  For more information on the requirements of the E-2 visa, please click here.
This website and blog constitutes attorney advertising. Do not consider anything in this website or blog legal advice and nothing in this website constitutes an attorney-client relationship being formed. Set up a one-hour consultation with us before acting on anything you read here. Past results are no guarantee of future results and prior results do not imply or predict future results. Each case is different and must be judged on its own merits.