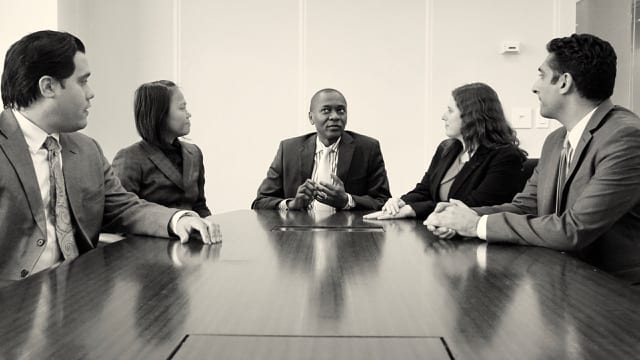 An E-2 Investor Visa is a great visa for entrepreneurs who are nationals of treaty countries, have money to invest and want to start a business in the United States.  The business can be large or small, but it must plan to hire employees. Sometimes E-2 investors have colleagues or employees in their home countries that they want to bring with them to the U.S. to work for their new company and help them launch the operation. This is permitted through the E-2 employee visa, which is appropriate for people who will come to the U.S. to work in a managerial, executive or specialized knowledge role. The E-2 investor visa and E-2 employee visa each have their own set of requirements, which are discussed below. This post will also discuss what to consider when you want to file for an E-2 investor visa and E-2 employee visa around the same time.
E-2 Investor Visa Requirements
In order to qualify for the E-2 Investor Visa, applicants must meet specific requirements. First and foremost, the applicant must be a national of a country that the U.S. has a treaty with. If you are a U.K national, you must also be a resident of the British Isles in order to be eligible. Secondly, the E-2 investor must demonstrate that he or she has invested a substantial amount of money and must demonstrate that the money has a legitimate source. The money must be the investor's personal funds and can be from personal earnings, a gift, sale of property or a loan, although the loan cannot be secured by the assets of the E-2 business. The investor must also place a certain amount of investment funds at risk, meaning the funds are subject to being lost if commercial fortunes change. Ultimately this means the investor must spend money on business expenses to launch the business. You can read about what qualifies as good E-2 investment expenses here. If the investor is purchasing an existing business, he or she must actually execute a purchase/sale agreement and transfer the funds to the Seller, or to an escrow account to be released upon the grant of the E-2 visa. The investor must also be in a position to develop and direct the business and must show that the business will not be marginal, meaning it will have the ability to hire U.S. workers.
E-2 Employee Visa Requirements
In order to qualify for an E-2 employee visa, the applicant must have the same nationality as that of the E-2 company. Additionally, if there is an individual E-2 investor living in the U.S., he or she must be maintaining E-2 status. The E-2 employee applicant must show that he or she is coming to the U.S. either as a manager, executive or supervisor primarily performing executive or supervisory tasks or as an essential employee who has specialized and unique knowledge or skills that are essential to the success of the E-2 business. Applicants demonstrate their role in the E-2 company by submitting organizational charts showing the company structure, a job description that illustrates the duties that will be performed, a resume that shows the applicant has the requisite expertise and a letter from the E-2 company, describing the business, job and employee qualifications.
Considerations when submitting E-2 Investor and E-2 employee applications at or around the same time
There may be situations where an E-2 investor would like to immediately bring over an E-2 employee to help him or her launch the E-2 operation. Here are some things to consider when submitting applications at or around the same time:
Where are you applying and what are the procedures of that Consulate? Consulates all have different procedures for E-2 visa applications. Many Consulates have a registration or enrollment process, where they first register the company with the investor's application and then provide a faster application process for subsequent E-2 employees. Some Consulates may be willing to hear the E-2 Investor and E-2 employee applications at the same time, while other Consulates may require you to submit one application to register the company and then submit the other application after the initial registration.
What will be the respective roles of the two applicants? It is important to demonstrate that the E-2 Investor will be coming to develop and direct the E-2 enterprise, meaning he or she should be performing high level tasks to drive the vision and strategy of the company. If the E-2 employee will also play an executive, managerial or supervisory role, it is important to distinguish their various responsibilities to demonstrate that both of them are needed for the company to succeed.
Will the company already have employees in the U.S.? If not, will employees be hired right away? If the company does not yet have any employees in the U.S., it may be hard to convince a Consulate that the company requires two executives or managers right away. Having employees already in place will help strengthen the argument for why you need the E-2 employee as well as the E-2 investor. If you do not have employees yet, providing a comprehensive business plan with hiring projections can help demonstrate what roles the E-2 investor and E-2 employee will play and show that US workers will eventually be hired.
This website and blog constitutes attorney advertising. Do not consider anything in this website or blog legal advice and nothing in this website constitutes an attorney-client relationship being formed. Set up a one-hour consultation with us before acting on anything you read here. Past results are no guarantee of future results and prior results do not imply or predict future results. Each case is different and must be judged on its own merits.