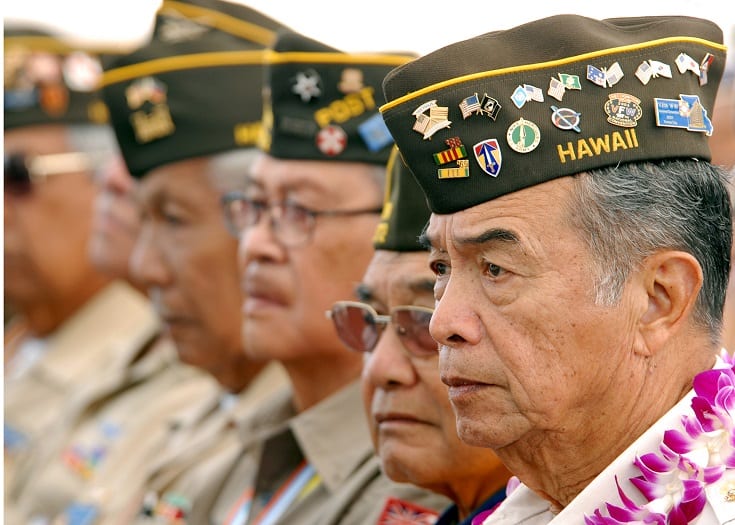 Having a military family member does not automatically qualify a noncitizen for a green card, but the military family member can potentially lead to an easier path in obtaining a green card. In most green card cases, a noncitizen must be applying for the green card outside of the United States. This means that if you are living in the United States without status, you may need to depart the United States to return to your country of birth to complete the green card process.
There are very few exceptions to the rule where the noncitizen can remain in the United States while awaiting the green card process. One of the exceptions allows the noncitizen to remain in the United States if two important factors are present. The first factor requires that the noncitizen must have entered the United States by having presented herself at an immigration checkpoint where an immigration officer inspected the noncitizen before allowing entry into the United States. The second factor requires the noncitizen have the petitioner be an immediate family member under the immigration law. An immediate family member is a US citizen spouse, US citizen adult son or daughter applying for their parent or a US citizen parent applying for a minor child. If these two factors are met, the beneficiary will remain in the United States throughout the green card application through a process known as adjustment of status.
The military family member  can be beneficial in a green card case because the military family member allows the noncitizen to apply for what is called a parole in place document which if approved creates a legal condition under immigration law where the noncitizen green card beneficiary is considered to be an individual who was inspected and admitted into the United States. The noncitizen being considered to have been inspected and admitted will now allow the noncitizen to apply through the adjustment of status process if the petitioner has an immediate family member and despite the fact that the noncitizen never really was physically inspected and admitted into the United States.
Great, so since my father is a legal permanent resident that served in the military, he can then help me obtain a green card through the adjustment of status process?
Maybe, but not necessarily. If your father is going to be the petitioner in your green card application, you will not qualify for the adjustment of status process even if the parole in place is granted because remember that in order to qualify for adjustment of status you also need your petitioning family member to be an immediate family member which your father is not. If you have no immediate family member, it is very likely your parole in place application will be denied anyway.
Well my son was born in the United States, is 19 years old and is currently serving in the military. Will my son be able to apply for me through the adjustment of status process?
No, not until he turns 21 years of age. For a son or daughter to apply for a parent, the son or daughter must be 21 years of age or older. This means that when he turns 21 years of age, then the approval of a Parole in Place whether through your father or son will then qualify you for the adjustment of status process.
My husband is a US citizen and former military, can I get the parole in place through him and then adjust status if he was dishonorably discharged?
Likely not. Parole in Place does not require the family member to be currently serving in the military, but a dishonorable discharge will disqualify him from helping you acquire Parole in Place.
So my only option to obtain my green card is to wait until my son turns 21 years of age?
Not necessarily. Waiting for your son to turn 21 is an option, but is not the only option if we are strictly speaking about obtaining your green card by any legal means. You can still attempt to apply for Parole in Place through your father and if approved then proceed with adjustment of status through your spouse as the petitioner since in this scenario you will still meet the required criteria of a lawful admission created by the Parole in Place and the petitioner being an immediate relative.
If adjustment of status is not an option, you also have the option to obtain the green card through the process known as consular processing where you will have to depart the US to interview at a US consular post abroad to obtain an immigrant visa which makes you a legal permanent resident once you re-enter the US. However, this option although very feasible to accomplish is not the most ideal because it will take much more time to complete because you will be required to seek a waiver for a ten year bar if you have lived in the US for more than one year or three years if you had lived in the US for more than six months but less than one year. The requirement of the waiver will cause a considerable delay in waiting for your case's approval before proceeding to the consular interview abroad that is why it is recommended to go through the adjustment of status process when possible.
Will it matter if I have a past drunk driving conviction and a possession of marijuana related conviction in my past?
Yes. Granting of Parole in Place is discretionary which means that even if you qualify, the immigration officer reviewing your request is not required to grant your application if the officer believes you are not deserving of the benefit. Although the potential negative impact denying your request will cause to your military family member is a significant factor considered, an immigration officer will also review all other positive and negative circumstances surrounding your life including your criminal history to determine whether you deserve the benefit. Even though drinking and driving is not considered a high-level felony offense, immigration has historically placed great emphasis on these convictions and denial of a Parole in Place application is very possible based on a past drinking and driving conviction. The goal in this situation is to attempt to convince the immigration officer that you have rehabilitated and that the positive circumstances in your life outweigh the conviction as well as attempting to emphasize the effect your denial may have on your military family member. Keep in mind, the more convictions you have and the more recent in time the convictions, the more difficult it will be to convince an officer that you are deserving of the parole in place benefit.
With respect to the marijuana related conviction, the concern is whether the conviction is the type of conviction that will outright disqualify you from the green card process. You can review our discussion on how drug related convictions and strategies to overcome such convictions by clicking here. If you are able to demonstrate that the marijuana related conviction does not disqualify you or that there is a waiver available in the event you are disqualified, then the discretionary aspect of the review of your request comes into play and again our goal is to attempt to convince the immigration officer that you have rehabilitated; that your denial will substantially affect your military family member and that the positive circumstances in your life outweigh the marijuana related conviction as well as the driving while intoxicate conviction.
How can I apply for Parole in Place then?
The application process varies from state to state depending on the local policies of the Immigration office reviewing your application. All applications are filed with the local immigration office having authority over the area where you live in. Most offices require the filing of the initial family petition known as the I-130 before accepting the Parole in Place application. The Parole in Place application, again depending on the local office may consist of a form known as the I-131 which is the application used to file for other forms of parole asking for physical entry into the United States. Additionally, the application will likely require that the filing receipt for the I-130 petition be included as well as, evidence of the military family member's past or current service in the military; evidence of the relationship between you and the military family member; evidence and/or explanation addressing how your obtaining a green card will benefit the military family member or how the military family member will be affected if your case is denied. Finally, the application should include any evidence demonstrating that you are deserving of this benefit as well as any explanation the circumstances leading to your criminal convictions as well as how you have rehabilitated since your last offense. In some cases, you maybe required to pay a filing fee, but most local offices don't require a fee. Again, consultation with an experienced immigration attorney is recommended since such an attorney will be able to advise you of the precise local filing requirements including whether or not payment of a filing fee is required.
FREE Visa Resources
Click on the buttons below in order to claim your free Visa Guide (E-1, E-2, TN, EB-5, H1-B, L-1, PERM, NIW, EB-1, O-1, E-3), sign up for our free Webinar, join our Facebook Group, or watch our videos.
Download FREE Visa Guide
Sign Up For Our Webinar
Join Our Facebook Group
Watch Our Videos
Set up a Visa or Green Card Consultation
For a dedicated one-on-one consultation with one of our lawyers, click on the button below to schedule your consultation.
Schedule a consultation
This website and blog constitutes attorney advertising. Do not consider anything in this website or blog legal advice and nothing in this website constitutes an attorney-client relationship being formed. Set up a one-hour consultation with us before acting on anything you read here. Past results are no guarantee of future results and prior results do not imply or predict future results. Each case is different and must be judged on its own merits.