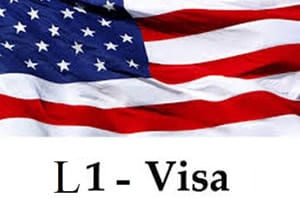 The L-1 visa allows companies abroad that have a qualifying relationship with a U.S. company to transfer employees to the U.S. in managerial, executive and specialized knowledge roles. The L-1 visa can be granted for up to 7 years for managers and executives and up to 5 years for specialized knowledge employees. One big benefit of the L-1 visa is that it is considered a dual intent visa, meaning that you can have the intent to immigrate permanently to the U.S., even though you are on a nonimmigrant (temporary) visa. The green card process can be quite lengthy, and it is common for the company and employee to start talking about green card options within 1-3 years of the person entering the U.S.
L-1A executives and managers may be eligible for an EB1C, multinational manager or executive green card, while L-1B specialized knowledge employees can often be sponsored through the PERM process, where the company tests the labor market to see if there are any available, willing and qualified U.S. workers for the role. In either case, the applicant will eventually file an I-485 adjustment of status application, which is the application that adjusts the person's status from L-1 to green card holder. When the I-485 is filed, the applicant can also file for a separate work authorization document, using Form I-765. The work authorization can be renewed in increments of 1 year for as long as the I-485 is pending. You can simultaneously apply for a travel authorization document using Form I-131.
Once you have the work authorization, the question may arise as to whether the company should extend your L-1 visa. The work authorization allows you to work and the travel authorization document allows you to travel while the green card application is pending, so why extend the L-1?
There are a couple reasons it is a good idea to extend the L-1:
Maintaining status. If you do not renew your L-1, you are permitted to stay in the U.S. solely based on the pending adjustment of status. Although you will have work and travel authorization, you will not have a status, but will be considered in an authorized period of stay based on the pending green card application. This means that if the green card application is denied for any reason, you will need to depart the U.S. right away. Maintaining your L-1 status means that if the green card application is denied for any reason, you still have your L-1 status and can remain in the U.S. and continue working for your company while you figure out next steps.
More flexibility to travel. For most people, once the adjustment of status application is filed, they cannot leave the U.S. until they apply for and receive a travel authorization document. If they travel before they get this document, the adjustment application is considered abandoned. However, this is not the case for L-1 and H-1B visa holders. People with H-1B and L-1 visas may travel freely on those visas without abandoning their green card applications, as long as they were in this status before departing the U.S. and  they are returning to resume employment with the same employer. Travel authorization applications can take months to be approved and there are no automatic extensions, so renewing the L-1 means you will have more flexibility on when you can travel.
Depending on when the green card application was filed, it is possible you will max out your L-1 time while you are waiting for the green card application to be approved. If this happens, you can still remain in the U.S. and you can apply for work and travel documents, as described above. However, if you have the option to extend your L-1, it is worth discussing this with your employer given the additional freedom to travel internationally during the green card process and the benefits of maintaining underlying status.
This website and blog constitutes attorney advertising. Do not consider anything in this website or blog legal advice and nothing in this website constitutes an attorney-client relationship being formed. Set up a one-hour consultation with us before acting on anything you read here. Past results are no guarantee of future results and prior results do not imply or predict future results. Each case is different and must be judged on its own merits.