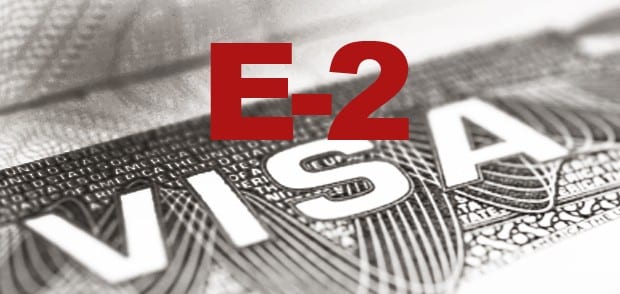 An E-2 visa is a visa that allows foreign nationals to come to the U.S. to either purchase or start a business.  The visa requires the applicant to invest money in the U.S. and ultimately hire U.S. workers.  You can find out more about an E-2 visa by clicking here.
Since the Trump administration has taken office, many of our clients have asked about the E-2 visa "climate" and what if any impact the current administration has had on the approvability of E-2 visas.  This article discusses some of the E-2 visa adjudication trends we have observed over the last two years where we have processed over 150 E-2 visas at various U.S. Consulates around the world.
Have E-2 Visa Denials Increased?  Are E-2 Visas harder to get approved under Trump?
Not really. We have not found an increase in the number of E-2 visa denials since this administration took office but there has been a shift in what adjudicators focus on and applications are scrutinized more than before.  For example, the buy American hire American (BAHA) focus has made adjudicators focus on investments made in the U.S. and examiners also more rigorously question the need for an E-2 employee where a U.S. worker could perform the task.  We have also seen examiners focus on the salary of an E-2 employee manager and question applications when the salary is too low. (claiming that the person could not be a manager if they do not make a significant salary). Our approval rate has stayed around the 97% range, but this is in part because as described below we have attempted to encourage clients to do more when filing an E-2 visa application. (past results do not predict future outcome)
What can I do to increase the chances of success of my E-2 visa?  How can I improve the chances of success for an E-2 visa under this administration?
The two most significant aspects related to E-2 visa approvals are the investment and job creation.  For example, an investment of $200,000 in a restaurant that has 6 employees is a very straight forward E-2 visa case that would likely have success at any Consulate.  An investment of $50,000 in a start-up without employees may face more challenges.  Simply said, the more you can invest (spend) and the more you can show that you will create jobs (or have created/sustained them before you apply) the higher your chances of success will be.  Another factor that is very important is knowledge and understanding of the Consulate you are applying to so that you can focus on their sensitivities.  You can read more about the reasons E-2 visas are denied by clicking here.
Is the E-2 visa under attack?  Has the Administration Targeted E-2 Visas?
Not really.  The current administration has increased the number of denials and implemented policy to make some immigrant and non-immigrant visa categories more difficult but not really the E-2 visa.  One notable example of a visa that has received significant scrutiny is the H-1B visa.  One reason that the E-2 visa has not been targeted is that the premise of the visa is that it creates U.S. jobs.  The administration argues that some of the other visas (H-1B, L-1, etc.) take jobs away from U.S. workers.  One change that we noted in 2018 was that for USCIS E-2 visa applications, the Government was conducting site visits to confirm the business existence.  In addition, we have seen at least one Consulate do a check on businesses half way through the visa issuance period.
Does an E-2 Visa require more Investment now? How much Investment is enough for an E-2 Visa?
Yes and No.  The typical investment amount required for most E-2 visas is $100,000 and over and this has not really changed. Recent changes in the Foreign Affairs Manual (FAM) have clarified that investment amounts under $100,000 are acceptable and it is likely that these changes (made in April 2018) will impact adjudications in the future as lawyers will use the wording to argue lower investment amounts.  One change that we have seen at Consulates is more scrutiny towards investments under $100,000. (e.g. $60,000 for a service business).  For example, in 2015 and before we regularly successfully processed E-2 visas where the applicant spent $25,0000 and held another $25,000 in a U.S. bank account ($50,000 total investment).   This is much more difficult today. While these E-2 visas are still possible, they represent very risky applications. To find out more about investment amount click here.
Do I have to have U.S. workers before I Apply for an E-2 visa? What does marginality mean? Do I need employees for an E-2 visa?
In the past, most of our E-2 visa applications for start-ups were approved based on a business plan even though hiring had not yet started.  While this is still possible, now we strongly encourage investors to have at least one employee that they have paid prior to applying.  This is especially the case with some Consulates.  This focus comes from the buy American Hire American mandate where in the past Consulates were a bit more likely to give an applicant the benefit of the doubt with respect to hiring for a start-up.   Employees on day one are not always mandatory but are recommended.  To find out more about hiring U.S. workers for an E-2 visa click here.
Do I need a Commercial Lease for an E-2 visa? Can I use a Home Office for an E-2 visa?
Nothing has changed here. We still think a commercial lease/office is highly recommended for an E-2 visa. You can find out more about the office requirement by clicking here.
Are E-2 visa renewals impacted by the changes in the Administration? Are E-2 Visa renewals harder now?
There is not anything specific in terms of changes over the past few years that we have noted regarding renewals at Consulates. Generally speaking, if you have hired U.S. workers (3 is a good number) you have a decent case for an E-2 visa renewal.   One big change though relates to USCIS filings.  In the past, the Government would give deference for past USCIS approvals and if things had not changed when a renewal application was filed, the government would not reevaluate the prior approval.  The administration introduced a policy memo that eliminated the policy to give deference to prior approvals, so each petition submitted to USCIS is adjudicated from scratch. As such, when submitting your application, you would have to submit everything (including the source of funds documentation) and an approval for sections that did not change (e.g. source of funds) does not mean that the application will be approved when renewed.
Are there changes in how an E-2 visa application should be prepared? Have the E-2 Visa Requirements Changed?
The E-2 visa rules have not changed, and the information required for submission has also remained the same.  That being said, the immigration environment is such that applications should be prepared very carefully, and an applicant should always strive for doing "more" rather than less. For example, over the last two years, we have really focused clients on spending more in terms of total investment (greater than $100K), not relying so much on cash as part of the investment (minimum of $50K spent) and hiring at least one U.S. worker before the application is submitted.  We are also quicker to advise clients of the risks of taking a "what is the minimum I have to do" approach.  Our approval rate has stayed around the 97% mark, but this is in part because we have attempted to encourage clients to do more. (past results do not predict future outcome)
Have Consulates changed their E-2 visa Processes?
Most Consulates have not changed their E-2 visa processes significantly but there are some common trends.  Generally, Consulates are moving towards electronic submissions (with a pdf size limit), page restrictions (between 40-100 pages), very specific instructions of what they want and don't want and advance review before scheduling an interview.  You should always check the Consular websites before applying as they change often. (At times the change can be minor but important)  For example, in the past, the U.S. Consulate in Paris required an advance review prior to setting up an interview and now an interview can be set up as soon as the DS-160 has been submitted.
Has the timing for E-2 visa filings changed?  How fast can I get an E-2 visa?
In most cases, the adjudication time for all visas (including E-2 visas) has increased over the last 2 years. For example, the U.S. Consulate in London previously adjudicated petitions in 30 calendar days and now takes 45 business days.  There are some rare instances (e.g. Toronto) where the processing time has not changed much but generally speaking applicants can expect longer waits for E-2 visas. That being said, an E-2 visa is still relatively "quick" visa in terms of adjudication length where adjudications rarely take over 45 days.  Also, for USCIS filings, an applicant can opt for premium processing and have their E-2 visa application adjudicated in 15 calendar days.
This website and blog constitutes attorney advertising. Do not consider anything in this website or blog legal advice and nothing in this website constitutes an attorney-client relationship being formed. Set up a one-hour consultation with us before acting on anything you read here. Past results are no guarantee of future results and prior results do not imply or predict future results. Each case is different and must be judged on its own merits.