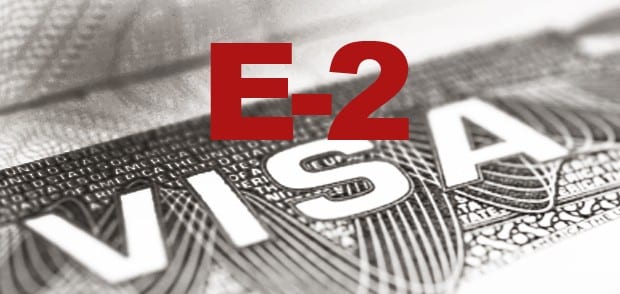 In light of the consular uncertainty and delays caused by the Covid-19 pandemic, a common question we receive is whether consulates are again processing E-2 visas. Fortunately, the answer is yes — consulates have generally returned to processing E-2 visas, as well as other visa types.
However, this is not the complete story. Although visa processing numbers are on the rebound, both foreign and U.S. government restrictions have slowed visa processing in certain countries. Furthermore, consulates are seeing large backlogs across the board. In this blog post, we explore the current state of consular processing for E-2 visas by taking a look at data from the Dept. of State.
What is the big picture trend in consular processing of E-2 visas since Covid-19 began?
Consular processing of visas fell dramatically starting in March 2020, as the U.S. government instructed consulates to suspend routine visa services and to only provide "mission critical and emergency services." This raised many concerns from those who required consular services, which we covered here.
The restrictions only started to be lifted four months later, in July 2020, as the government permitted specific consulates to gradually resume services. These closures had a direct impact on the number of E-2 visas issued at U.S. consulates worldwide. In 2020, there was a 45% decrease in the total number of E-2 visas issued compared to 2019.
As both the U.S. government and foreign governments began relaxing restrictions, the number of E-2 visas being issued began to rebound. Consulates have been issuing E-2 visas, some at a rate that far exceeds those seen before the pandemic. This reflects the fact that consulates suffered significant backlogs while under reduced operations as applications continued to arrive.
While this is generally good news, we are clearly not out of the woods yet. The U.S. government and foreign governments continue to implement policies intended to address Covid-19 that have slowed E-2 visa processing. The March 2 National Interest Exception restrictions, affecting the Schengen Area, United Kingdom, and Ireland, is but one prominent example.
How are the numbers at specific consulates reflecting these trends?
We looked at the number of E-2 visas issued at several consulates around the world beginning in January 2020, and continuing to January 2021 (the most recent month for which data is currently available). Specifically, we took a look at the U.S. consulates in Frankfurt, London, Seoul, Tokyo, and Toronto.
Below is a table of the number of E-2 visas issued monthly by specific consulates between January 2020 and January 2021:

Below is a graphic representation of the data: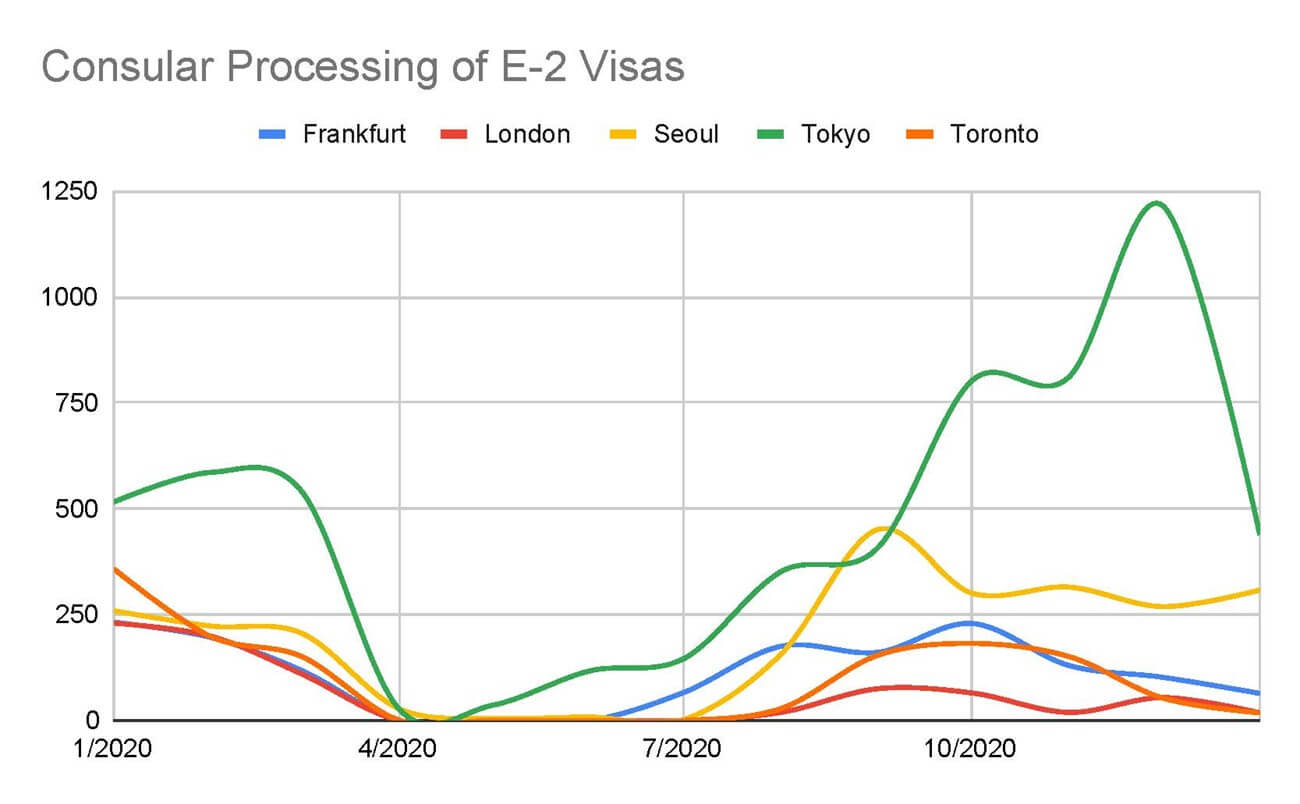 *Source: https://travel.state.gov/content/travel/en/legal/visa-law0/visa-statistics.html
The table and chart make several trends especially clear. First, in accordance with guidance from the U.S. government, the issuance of E-2 visas effectively ceased across the board in April 2020 until about July 2020. The consulates on our list had all returned to processing E-2 visas by August 2020.
Also, we can see that, by October 2020, the consulates were approaching or exceeding visa processing numbers that were seen prior to the pandemic. For example, Frankfurt issued 229 E-2 visas in October 2020, while they issued only 196 E-2 visas in February 2020 (the month before Covid restrictions were implemented).
There is a significant backlog of E-2 visa applications.
The fact that in October 2020 Frankfurt was exceeding its pre-pandemic numbers is shared with the consulate at Tokyo, which processed far more E-2 visas in October, November, and December 2020 than it had in the months immediately prior to March 2020 (note that, though restrictive measures to combat Covid-19 were taken in Japan earlier than in Europe, the numbers of visas processed in Tokyo prior to March 2020 were similar to those typically processed by the consulate prior to the arrival of Covid-19 in the country). In fact, in December 2020 the Tokyo consulate issued more E-2 visas than it had in January and February 2020 combined.
Consulates continued to receive E-2 visa applications throughout the closures, and they now face a substantial backlog of pending applications. The large numbers of processed E-2 visas in Frankfurt and Tokyo suggest the existence of a backlog, but also suggests that consulates may be making efforts to address the backlog. However, it is likely that large backlogs continue to exist at consulates around the world, and will remain for months to come.
Restrictions continue to hamper E-2 visa processing.
The numbers from January 2021 — the most recent data available from the Dept. of State — show that all of the consulates we observed reached a peak between September and December 2020, and processed fewer E-2 visas in January 2021. There are likely a number of factors at play here, one of which is that, due to increasing numbers of Covid-19 cases at the end of 2020 and start of 2021, additional restrictions were put in place both by the U.S. government and various foreign governments. The March 2 NIE restrictions are but one example. While consulates generally continue to process E-2 visas, these restrictions do threaten to slow the process.
However, the overall trend moves in a positive direction, suggesting that consulates are already working to process E-2 visa applications and will only increase that rate as vaccinations become more widely available, variants are better understood, and governments relax social distancing restrictions.
---
This website and blog constitutes attorney advertising.  Do not consider anything in this website or blog legal advice and nothing in this website constitutes an attorney-client relationship being formed.  Set up a one-hour consultation with us before acting on anything you read here. Past results are no guarantee of future results and prior results do not imply or predict future results.  Each case is different and must be judged on its own merits.