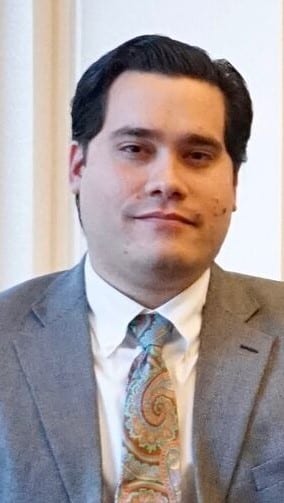 Nos complace anunciar que Jose G. Rivera, Esq. se unirá a Scott Legal P.C. como un asociado en nuestra oficina de Nueva York el 15 de Noviembre de 2016. El Sr. Rivera se centrará principalmente en el derecho de negocios y las visas de inversionista.
El Sr. Rivera obtuvo su doctorado en derecho de la New York Law School y su licenciatura en Historia de la New School. El Sr. Rivera estuvo en la Lista del Decano repetidamente durante su tenencia de pregrado.
Durante la escuela de derecho, el Sr. Rivera trabajó como asistente de investigación para Profesores Richard Chused y Gregory Boyd, realizando investigación y análisis en diversos campos del derecho. Como pasante en Colon & Peguero, LLP, el Sr. Rivera investigó y preparo memorandos legales durante las etapas preliminares del litigio. Además, el Sr. Rivera formó parte del comité ejecutivo de los "Affiliated Lawyers of the Americas" (Abogados Afiliados de las Américas o "ALTA"), una asociación sin fines de lucro dedicada a promover el crecimiento y la expansión de oportunidades de negocios y relaciones comerciales en las Américas y el Caribe.
Antes de unirse a Scott Legal, el Sr. Rivera trabajó como asociado en un bufete de abogados basada en Nueva York que enfocando una amplia gama de casos de litigio civil. En esta capacidad el Sr. Rivera centró su práctica en litigios comerciales, representando a individuos, corporaciones internacionales y nacionales, LLCs y asociaciónes en un amplio espectro de disputas comerciales complejas. El Sr. Rivera ha preparado y argumentado mociones ante la División Comercial de la Corte Suprema de Nueva York, las Divisiones de Apelaciones del Primer y Segundo Departamento y la Corte de Distrito de los Estados Unidos para el Distrito Federal del Sur de Nueva York. El Sr. Rivera también ha representado a inquilinos indigentes en los procedimientos de incumplimiento de pago y desalojo en los tribunales civil de Nueva York en Manhattan, Queens, Brooklyn y el Bronx.
El Sr. Rivera es admitido a la práctica de la ley en el Estado de Nueva York y el Distrito Federal del Sur de Nueva York y habla español con fluidez.
Nos complace darle la bienvenida al Sr. Rivera.