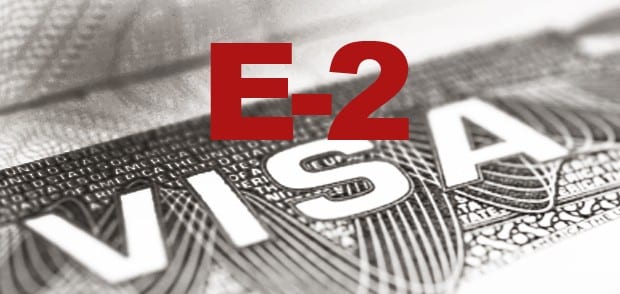 E-2 víza je typ neprisťahovaleckých víz ktorý umožňuje investorom ktorí chcú žiť v USA rozbehnúť svoj vlastný biznis alebo kúpiť už rozbehnutý biznis (napríklad odkúpiť už rozbehnutú reštauráciu). Biznis ktorý chcete v USA rozbehnúť môže byť malý, stredný alebo veľký, avšak aby vám boli udelené E-2 víza budete musieť splniť určité kritériá. Tu nájdete náš článok o E-2 víza kritériách.
Jedným z E-2 víz kritérií je, že vaša investícia musí byť "značná". Mnoho našich klientov sa nás často pýta aká investícia je značná – koľko peňazí musia investovať aby im boli E-2 víza udelené.
Pravda je taká, že vláda USA nemá presnú čarovnú čiastku ktorú keď investujete tak vám víza budú automaticky udelené. Aká čiastka je značná bude závisieť prípad od prípadu.
Keď konzulát skúma či ste investovali značnú čiastku tak používa tzv. test proporcionality. Tento test skúma aká je zvyčajne suma ktorá musí byť investovaná aby bol konkrétny typ biznisu rozbehnutý, a potom sa pozrie na vašu investíciu a skúma či táto investícia je značná v porovnaní s celkovou čiastkou ktorá musí byť investovaná pre daný typ biznisu.
To znamená, že to či je vaša investícia značná bude záležať na tom, aký biznis zakladáte. Keď zakladáte biznis ktorý je orientovaný na poskytovanie služieb (napríklad consulting), tak vaša investícia bude podstatne nižšia ako keby ste zakladali biznis kde potrebujete vysoký kapitál (napríklad fabriku na výrobu áut kde budete musieť kúpiť drahé stroje a prenajať obrovský priestor aby ste biznis rozbehli).
Výška investície ktorá bude značná bude závisieť prípad od prípadu, ale zvyčajne, čím vyššia je investícia, tým lepšie pre vašu E-2 víza žiadosť.
Tu je zopár tipov nad ktorými by ste mali popremýšlať pred tým než invesujete peniaze do Vášho biznisu
Môže byť hotovosť ktorú máte na bankovom účte považovaná za investíciu? Áno a nie. Určitá hotovosť na vašom bankovom účte môže byť považovaná ako časť E-2 investície a toto je tzv. prevádzkový kapitál. Avšak ak máte tisícky dolárov na bankovom účte v hotovosti  ale žiadne peniaze neboli investované (to znamená minuté na premájom, inventár, zariadenie kancelárie, marketing, webstránku atď.), tak táto suma nemôže byť považovaná ako E-2 investícia. Avšak ak ste už minuli/investovali $150,000 a máte $30,000 ako prevádzkový kapitál na účte v USA tak toto je v poriadku.
Väčšina z peňazí ktoré sú investované by mali byť investované v USA. Napríklad ak zakladáte právnickú firmu a potrebujete nakúpiť vybavenie do kancelárie alebo počítače, tak toto vybavenie by malo byť kúpené v USA, ale určitá čiastka môže byť minutá aj v inej krajine (napríklad na Slovensku).
Keď chcete zahrnúť prenájom kancelárie ktorý platíte v USA (či už nájom za kanceláriu alebo ak dovážate tovar do USA a potrebujete sklad, tak prenájom za sklad), tak za investovanú sumu bude považovaná iba suma ktorá už bola zaplatená v čase keď je vaša E-2 aplikácia podaná, a nie suma ktorú budete platiť v budúcnosti.
Je veľmi dôležité si ponechať faktúry a bankové výpisy alebo šeky ktoré preukazujú že ste faktúry uhradili pretože tieto dokumenty budete potrebovať keď submitujete vašu E-2 aplikáciu na konzulát alebo pri vašom interview ako dôkaz, že peniaze boli skutočne minuté/investované.
Aj keď suma ktorú investujete aby ste rozbehli váš biznis je extrémne dôležitá súčasť vašej E-2 aplikácie, fakt že v čase keď aplikujete o E-2 víza už máte zamestnancov vám môže veľmi pomôcť vašej aplikácii ak je investovaná suma nižšia.
Aj keď existujú E-2 aplikácie ktoré sú schválené keď je investovaná suma okolo $50,000, riziko že vaša víza aplikácia bude zamietnutá je v tomto prípade oveľa vyššia, a my zvyčajne odporúčame investovať viac. Toto je špeciálne pravdou ak žiadate o E-2 víza na určitých konzulátoch ktoré majú prísnejšie štandardy na to aká suma musí byť investovaná. Napríklad existujú prípady kedy E-2 aplikácia je zamietnutá aj keď suma investovaná je $200,000.
Kliknite sem ak chcete vedieť viac o E-2 vízach.
This website and blog constitutes attorney advertising. Do not consider anything in this website or blog legal advice and nothing in this website constitutes an attorney-client relationship being formed. Set up a one-hour consultation with us before acting on anything you read here. Past results are no guarantee of future results and prior results do not imply or predict future results. Each case is different and must be judged on its own merits.