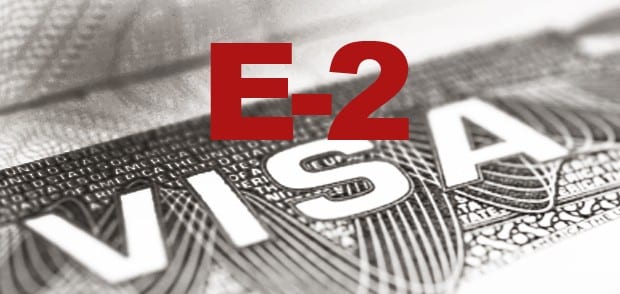 An E-2 visa is a temporary visa that can be issued for up to 5 years.  The investor can renew this visa indefinitely, but the visa itself does not lead to a green card.
You can find out more about whether an E-2 visa "leads" to a green card by clicking here.
While an E-2 visa does not lead to a green card, there are certain green card categories that can be considered while on an E-2 visa.  The categories are summarized below.
EB-5 Investor Green Card
An E-2 investor can apply for an EB-5 green card using the existing E-2 business.  To apply, the investor must invest at least $900,000 of personal funds ($1,800,000 if not in an economically depressed area) in the E-2 business or another business. If the business is the E-2 business, the previous investment made for the E-2 visa would count.  The investor must also hire 10 full-time employees over a 2 year period.  The E-2 employees could count towards that number also assuming the E-2 investment was already made to support those employees.  If the E-2 visa was based on a business purchase, this investment amount cannot be counted towards the EB-5 investment.
You can find out more about the EB-5 Requirements by clicking here.
For example, let us say that someone obtained an E-2 on January 1, 2019 and invested $200,000 to start a restaurant and hired 5 employees.  The person then invested another $700,000 and expanded the restaurant and in 2021 hired another 5 employees. Assuming that the business was in a TEA (a region where the unemployment rate is 1.5 times the national average or a rural area) the investor would be eligible to apply for an EB-5 visa.  If the person purchased the restaurant for $200,000, they would have to invest another $900,000 to qualify and hire 10 new employees.
An E-2 investor could also invest in a regional center which is a much more passive form of investment and continue to operate the E-2 business while waiting for the green card.
National Interest Waiver
Another green card option is an EB-2 National Interest Waiver.  This is available to entrepreneurs if they can show that the benefit that they can give to the U.S. outweighs the requirement for the Labor Condition Certification.  A court case (Dhanasar) has greatly expanded the availability of this category for E-2 visa holder and other entrepreneurs.  To qualify for an NIW you must prove:
Your endeavor has both substantial and national merit

For example, you will create U.S. job, and this will benefit the economy

You are well positioned to advance the endeavor

For example, you have the relevant education and experience to move the endeavor forward

On balance it would be beneficial to waive the Labor Condition Requirement

As entrepreneurs who own a majority of a company are not eligible for labor certification, we often argue that this category is not that relevant for entrepreneurs and/or that it has been satisfied
You can find out more about the National Interest Waiver requirements by clicking here.
EB-1 Extraordinary Ability
Some E-2 visa holders may be able to qualify under the extraordinary ability category under the field of entrepreneur or business.  To qualify, you must meet at least 3 of the 8 Extraordinary ability criteria.  The criteria are all designed to show that you have risen to the very top of your profession (For example, awards, publications, media, leading role in organizations, memberships, etc.)
You can find out more about the EB-1 category by clicking here.
Family Based Green Card
Marriage to a U.S. citizen or green card holder are very fast ways to get green cards.  Both of these family-based categories are current which means that you could obtain a green card in as little as 18 months.  There are also other family-based categories where green cards are possible although they invoice a longer wait.
Other E-2 visa to Green Card Considerations
There are some important considerations when applying for a Green Card while on an E-2 visa.
An E-2 visa is not a "Dual intent" As such, renewing the E-2 visa and/or border entries could be problematic if you have a pending green card petition. As a result, timing is very important when applying for the green card.
As E-2 visa holders will normally own at least 50% of the E-2 company, the Green Card rules do not allow the E-2 company to sponsor the investor. That is, the PERM process (EB-2 and EB-3) are not available for E-2 investors for the same E-2 company. An E-2 investor can be sponsored by another company under the EB-2 or EB-3 categories though.
Once the E-2 investor gets the green card, the E-2 company is no longer an E-2 company. As such, any employees that are E-2 employees would no longer be eligible for that status.
If an immigrant (green card) petition is denied, it could impact your E-2 visa renewal. You can find out more about this by clicking here.
FREE Visa Resources
Click on the buttons below in order to claim your free Visa Guide (E-1, E-2, TN, EB-5, H-1B, L-1, PERM, NIW, EB-1, O-1, E-3), sign up for our free Webinar, join our Facebook Group, or watch our videos.
Download FREE Visa Guide
Sign Up For Our Webinar
Join Our Facebook Group
Watch Our Videos
Set up a Visa or Green Card Consultation
For a dedicated one-on-one consultation with one of our lawyers, click on the button below to schedule your consultation.
Schedule a consultation
This website and blog constitutes attorney advertising. Do not consider anything in this website or blog legal advice and nothing in this website constitutes an attorney-client relationship being formed. Set up a one-hour consultation with us before acting on anything you read here. Past results are no guarantee of future results and prior results do not imply or predict future results. Each case is different and must be judged on its own merits.